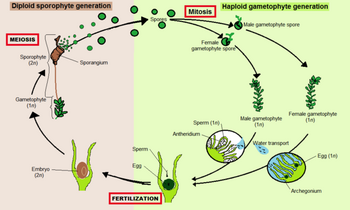 Bryophyta is a Division of Kingdom Plantae under Sub-Kingdom Cryptogamae which includes differentiated yet non-vascular plants.
Characteristic Features
Edit
Some may be thallus, while others are differentiated into roots, stems and leaves
Show Alternation of Generation

Life Cycle is dominated by Gametophyte Stage
Sporophytic Stage is non-branching

Do not have well defined vascular bundles
Live on soil but antherozoids require water to reach eggs

Are also called Amphibians of the Plant Kingdom for this reason.
Further Classification
Edit
Class: Moss
Class: Liverworts
Class: Hornworts
The term "Bryophyta" is actually derived from the greek words - "bryon" which means tree moss and "phyton" meaning plants.